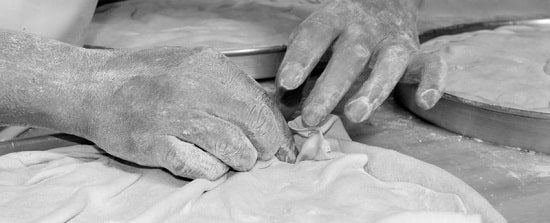 The Ancient Egyptians were the first to invent a cake-like delicacy from oats, wheat, rye or barley, filled with honey and/or fruits. In Ancient Greece, pies were part of Greeks' everyday diet. For ariston (meaning breakfast), they savoured a pie with a dough made out of wine, while during symposia (meetings to discuss subjects), they ate sweet honey pies. "Mytlotos" was a pie filled with cheese, honey and garlic and "maza" was a nutritious pie kneaded with flour, barley rye, oats and pulses. Romans, later, added eggs, meat and other ingredients. The pies could preserve the juices and flavor of the filling or even as offerings to their deities.
Over the centuries, the pie was adapted to every culture, tradition and kitchen it arrived in. The pies have continued to make their appearance on the table, and in the following centuries, in all social classes, it adapted its form from place to place. Today, the variations of Greek pie are encountered all around Greece and they are all the evolution of the ancient pie; which in its original form was simple and baked on hot stones or in ember.
But how did the pie become so popular and a "all-day-food"?
There is not a single answer to this question, but it can be summarized in one word; convenience. First of all, the pie was made of ingredients that people could easily find in their gardens and fields. So, it was definitely healthy. In addition to this, preparing a single food that includes so many different ingredients, in one go, reduces the fuss of cooking separate dishes. Another reason was that people could easily carry a few pieces of pie at work, for lunch. Last but not least, in times where there were no refrigerators, this was a smart way to preserve food, by cooking it all at once.